Safety Monitoring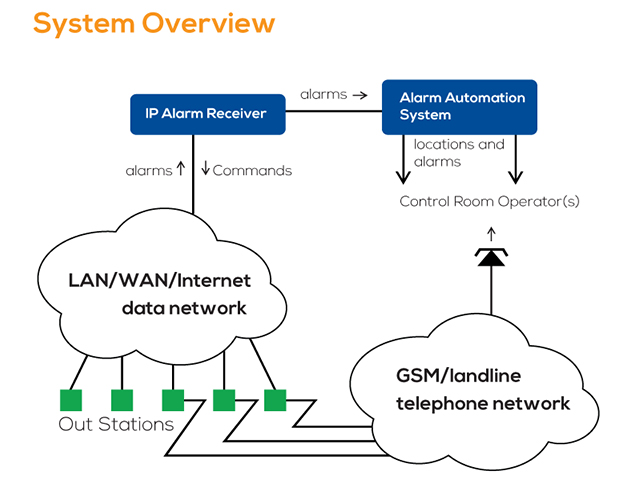 The fire alarm is the most widely known electronic system in the safety field as it protects people against the risk of fire. People know about it because they get involved in fire drills and if they have been affected by a false alarm in a building. However, it is rare for these "life-risk" systems to use remote signalling. The main emphasis when a fire is detected, is to ensure that no people are left in the affected building, so sounders and warning announcements are made locally and sending a message to a remote centre is very much a secondary consideration.
Protection of buildings and property against fire does however warrant remote signalling particularly when buildings are not occupied all the time and protection is often more important at night and at weekends as during the working day. Alarm signaling for fire alarms has different priorities to alarm signalling for intruder alarms.
Whereas security systems are attacked by criminals, there is little to be gained by subverting Safety Monitoring and the monitoring of the availability of the communication path is generally more important than for Security Monitoring and the delay before a communications path failure is identified, called the Reporting Time, is shorter. Terrier's communicators have a number of different Reporting Times to suit different applications and for fire alarms, the fastest times are used.
When identifying fire risks in residential accommodation, a refuge providing physical protection from fire can be incorporated into a building. The purpose of a refuge is to protect people who have difficulty in evacuating the building and to ensure that they can get assistance, a refuge can be equipped with an Emergency Voice Communication system. Terrier's communicator provides an emergency telephone facility as well as alarm signalling and will be a cost-effective Safety Monitoring solution for organisations monitoring their own alarms and having a duty of care to people in their buildings.
If you would like to extend the monitoring of alarms to provide an Emergency Voice Communication system to protect vulnerable people in your buildings, please call and ask about our system.